NOTE: the product described in this section is no longer generally available, but can be made available on an as-is, exception basis for customers still supporting a legacy OS/2 install base. Please
contact
Golden Code Development.
Promotional materials referencing this product may contain out-of-date information.

The Golden Code® Trace Analyzer for Java(TM) is a graphical program which allows you to decode and interpret trace file data. The flexible and powerful companion product to Network Trace and Kernel Trace, the Trace Analyzer also reads trace files generated by other popular tracing software, preserving our customers' previous investments in tracing tools.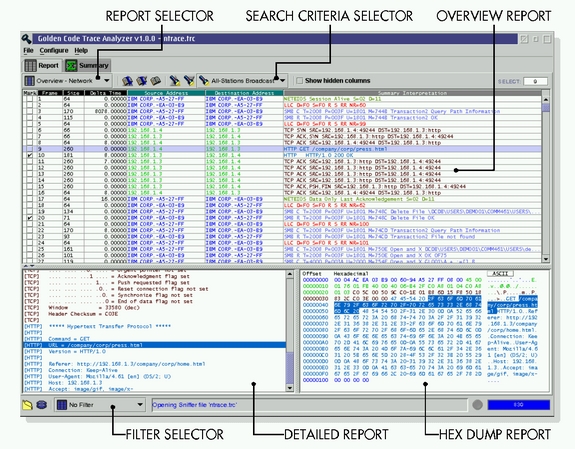 Written in Java to be platform neutral, the Trace Analyzer offers a rich set of features in a simple interface. The Trace Analyzer is designed to be extensible and customizable. New report formats and data filters are easily added by the end user to provide a view into your traces never before available.
Download a PDF Brochure